The Transformation Show presents Mina Firme's Special Offer Manifest Soul Mate Love - Step by Step guide to Manifest your Soul Mate in 60 days!
Join us Live on The Transformation Show @ 8am AEDT on 3rd March 2017
U.S. & GMT time: March 2nd at 5pm EDT / 4pm CDT / 2pm PDT/ 10pm GMT
2:30am IST (Indian Standard Time)
Durva and Mina will open up the phone lines and answer your questions. There will be a group healing to open new possibilities and download higher intelligence to relieve areas of persistent health issues within and bonus energy activation gift MP3 link announced during the call
I have worked with many clients from all around the world regarding soulmates and have dedicated many years researching it. I have learnt a lot throughout the years and I want to share not only my profound knowledge of soulmate connection but also my personal story to help you find your soulmate in 6 steps.
The answer to manifest your most compatible soulmate
Love yourself
Release past relationships
Release the pressure & surrender control
Feel worthy of true love
Magnetise your soulmate
Reinforcing the connection
Feeling loved and accepted is our number one human need. Love is one of the most powerful and motivating emotions that anyone can feel. Love is the true essence of our human and spiritual core and derives from two sources being the external source (love given to us by others) and the internal source (love given to us by ourselves). Allowing ourselves to accept the internal source creates self-love. I am sure you have heard the saying "you can't love somebody until you love yourself" and that is true however I have learnt that we cannot accept true love either until we feel self-love. Loving ourselves unconditionally allows us to accept all our imperfections as much as we embrace our qualities, which in turn frees us from judging self or others and allows us to avoid the collective programming that the everyday world imposes on us through societal and medial influence.
We all want and desire that divine soulmate love and would do anything to experience it yet we are afraid because most of us were programmed to fear love and embrace fear. Therefore we keep going back to a place of fear and run away from love because the common belief is that love hurts. ...? What hurts are feelings of rejection, abandonment and disappointment and this believe that love hurts is one of the main barriers to attract love. Deserving love being in the allowance of love and the pressure to find love are also big barriers to manifest your soulmate.
Feeling self-love and worth in its entirety sets us free and makes it possible for us to attract our greatest love of all. A connection like no other that merely is not recognised in our cognitive mind but rather deep within our soul. We all dream of finding the one, our true love, our SOULMATE.
I have been fortunate enough to meet my soulmate and this event would not have been possible if I was not in the allowance of love or if I had the pressure to find it. When I finally released the pressure and surrendered it manifested into my life when I least expected. Ready or not it was all happening. After many years of working on myself to attract this person I realised it wasn't that hard after all. I had created meditations to help people attract their soulmate and I started to listen to them everyday and 2 months later this was being manifested in my life. I could not have planned it any better it happened at the perfect time with ease, nothing forced. It's only when we surrender control and release the pressures of finding our soulmate that we able to manifest our soulmate into the physical reality. That is why I know these steps work because it was after implementing these steps that Dave came into my life and it was like a dream came true. A few weeks before we met, he come to me in a dream looked at me and said this is true love. We recognised each other instantly and even before we met we had fallen in love. Within 2 weeks after we met I was meeting his family, everything was being aligned in perfect and divine timing. Many people ask me how do you know if this person is the one? How will I know? You will know because the intensity of the connection is out of this world. It is so powerful yet gentle, passionate and a sense of coming home. You will feel safe also vulnerable, alive and happy like a whole new world has just opened up for you.
So are you ready to manifest soulmate love?
Are you ready to be stripped of your ego and surrender?
Are you ready to improve the relationship with yourself and connect with the deepest part of you?
Are you ready to have your heart so full of love that sometimes it feels like is going to burst?
Are you ready to release past relationships and energetically divorce from your former partners?
Do you want to live your life without the fear of being rejected?
Do you want to build your confidence and self worth?
Do you want to elevate your relationship to a soulmate level?
Do you want to feel worthy and deserving of a loving relationship?
Step by step guide to Manifest your Soulmate in 60 days consists of 5 Audio MP3s + Bonus
From Heartache to Joy Special Offer
Step by step guide to Manifest your Soulmate in 60 days consists of 5 Audio MP3s + Bonus + A 25 minute soulmate reading with Mina
From Heartache to Joy Special Offer
Here's what's included in the package
ITEM 1:
You Are Beautiful
Value: $97
Format: MP3
Running Time: 20min
Listening to this audio on a daily basis will rebuild at a very deep level the relationship with the inner child aspect of us, we release fear of rejection, guilt and the negativity that was imposed on us as children regarding love and self love and teach the child part of us to love and accept her/himself. We heal any and all splits on the inner child level and receive a cluster of downloads from source on self-love, grace, beauty, self compassion, self forgiveness, self acceptance infusing the child aspect with self confidence. Listen daily ~ (Can be listen while you sleep)
Value: $97
Format: MP3
Running Time: 35min
Let go of your past relationships completely, and on levels with this audio we do the energetic divorce between you and all your ex-partners. Resentments, guilts, sorrows and cords are cut so you are free to move on with your life and attract the love you deserve.
Value: $97
Format: MP3
Running Time: 32min
Do you really feel worthy of soulmate love? With this meditation we release blocks that are impeding you to manifest true love in your life. We go to the past and remove all promises/vows and contracts on the soul of unworthiness of love. We release the hurt/pain of your first heartbreak. Peace, forgiveness and confidence are some of the feelings you experience with this powerful healing meditation.
ITEM 4:
The Cherry Blossom Garden-Meet Your Soulmate
Value: $97
Format: MP3
Running Time: 40min
We take you to the cherry blossom garden, where you meet your most compatible soulmate. You will spend time with him/her, talk, feel his/her energy, and get to know each other. This is a great meditation to start calling in your soulmate to your reality and magnetize the connection.
ITEM 5:
Channelled downloads on Soulmate Love & Relationships
Value: $97
Format: MP3
Running Time: 25min
Channelled these downloads directly from source, all you have to do is sit or lie down relax and allow yourself to absorb it. Over 100 downloads Listen daily ~ (Can be listen while you sleep)
I know how to grown in a relationship without having to go through struggle or drama
I release all fear of being rejected
I love my body my body loves me It's safe to love my body
I know how to attract my most compatible soulmate
I know how to recognise my most compatible soulmate
I know what it feels like to feel loved I am loved
I know what it feels like to feel cherished, respected and loved
I deserve a loving relationship
It's for me safe to commit
I know how to release the fear of being alone
I know how to bring my relationship to a soulmate level
I allow true love in my life
I am worthy of true love
Bonus
Fall in love with yourself program Week One & Two
Duration: Approximate 3 hours of healings and clearings
Value: $97
Format: MP3
Running Time:1h:05min
We start with opening up to be in the allowance of receiving all the healings/clearings
Resenting yourself
Resenting your body
Resenting your decisions
Release the regret of regretting
Release guilt-Release the victim energy
Release trauma of rejection from your body, cells and imprints from past lives
Learn the importance of understand free will and choice
Value: $97
Format: MP3
Running Time:1h:36min
We start with opening up to be in the allowance of receiving all the healings/clearings
Accept where you are, who you are and where you are at.
Forgiving yourself-Learn your lessons through love
Learn a simple process where you can unconditional accept and start loving yourself
Give yourself permission to love YOU-Fall in love with yourself
Empower yourself-The power of saying NO
Be able to recognize healthy relationships and toxic ones, and how you can detach from it.
Value: $97
Format: MP3
Running Time:90min
We start with opening up to be in the allowance of receiving all the healings/clearings
Inner child healing-Loving the child within
Resolve unresolved childhood wounds, clear trauma
Release obligations/promises/vows of needing to prove yourself to the world
Recognizing your self-worth and your uniqueness
Forgiving your parents
Exclusive Gift For The Transformation Show Community
Value: $57
Activation Love & Acceptance Format: MP3
Running Time:20min
Listen to this audio to start activating self love and self acceptance within you. Know that you are love and deserve love. Experience beautiful healing vibrations of love and acceptance. You will feel relaxed, calm, empowered and with a greater sense of self confidence. Listen to it daily to ignite the love within.
Total Package Value $299
From Heartache to Joy Special Offer $97
*** 68% Saving ***
Includes Everything In Package A Plus
ITEM 11:
A 25 minute soulmate reading with Mina
Value: $147
Format: MP3
Running Time: 25min
Mina will tune in to your energy and clear the core belief that is stopping you to attract soulmate love. Please keep in mind that you might have many beliefs and underlying beliefs that might be blocking you however clearing the core will speed up the process and bring you closer to find love.
Total Package Value $490
From Heartache to Joy Special Offer $147
*** 67% Saving ***
I have no words to express my gratitude. Thank you Mina. I have been listening to your soulmate meditations and last month it happened!!! OMG!! I am so happy cannot take this smile off my face. He is wonderful and we are so much in love.



Sharon, Sunshine Coast Australia
Thank you from the bottom of my heart for helping me find self love and find my soulmate. I was losing hope but the audios are very powerful. For all the people out there wanting to find love one word of advice Don't give up!!



Jenny Clark, Paris
In just a few sessions Mina was able to pinpoint, the issues that were a battle in my life and we commenced the process of my personal healing. Although I am a 'work in progress' as I like to call it, Mina is there for me every step of the way. Her kindness and generosity goes beyond a healer. She was able to bring into my life a sense of peace that I had not felt in a long time. Thank you Mina for your kind words, thoughts, healing and messages of love and peace. I don't know what I would do without your support.

Dalia Graca – Melbourne, Australia
Dearest Mina,
Thank you, Thank you, Thank you!!Your generosity, thoughtfulness, love, insight, healing light and Divine wisdom truly and deeply touched and beautifully transformed my heart and Soul. You are such a blessing!

Theresa, USA,

Such gratitude and a warm joyful heart,
Mina, thank you so much for the clearings you performed for me! I cannot believe that clearings so short and simple could ever be so potent, but they definitely are! I felt immediate changes and with your meditation package, I am able to get rid of any residue we weren't able to deal with on our call. I'm amazed at how you were able to so accurately read my past lives and recognize where the blocks in my present life stemmed from. Thank you for showing me that the cold relationship with my father stems from our relationship centuries ago and that we are able to heal all the past hurt in the present lifetime. I felt like I was talking to a long time friend during our session and that made me even more receptive to what you had to say. I cannot say "Thank You" enough, and I am grateful to have had you aide in launching a 2014 full of clarity and blessings for me!

Nev - Brooklyn NY
Mina is a gift. She is compassionately insightful, gently enlightening and lovingly aware. Being very attuned to energy, I can assure that she does transmit energy and is authentic is every way. I am truly grateful for experiencing her.

Kat - Canada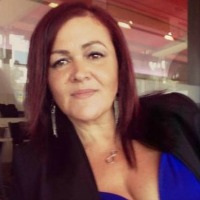 Mina is an energy therapist and spiritual counsellor who helps her clients achieve the life they deserve. Mina can read, see, sense, feel and transform energy. Going straight to the core beliefs, that are impeding you to achieve the life you deserve, is one of Mina's gifts.
She has helped thousands of people from all walks of life and countries around the world. Her vast experience includes counselling, studying psychology and a number of personal development and spiritual courses including Kinesiology, NLP, Theta Healing, EFT, and Quantum Being. She also has the precious gift of seeing past-lives with amazing clarity. This allows her to do intuitive readings and tune in to past lives to heal pain that is often lying dormant under the surface but affecting people in a variety of ways. She believes the key to transformation is self-love and when you truly love yourself everything starts to fall in place.
Step by step guide to Manifest your Soulmate in 60 days consists of 5 Audio MP3s + Bonus
From Heartache to Joy Special Offer
Step by step guide to Manifest your Soulmate in 60 days consists of 5 Audio MP3s + Bonus + A 25 minute soulmate reading with Mina
From Heartache to Joy Special Offer
DISCLAIMER: The information on this site is not intended or implied to be a substitute for professional medical advice, diagnosis or treatment. All content, including text, graphics, images and information, contained on or available through this website is for general information purposes only. Please see a medical professional if you need help with depression, illness, or have any concerns whatsoever.

WE DO NOT OFFER MEDICAL ADVICE, COURSE OF TREATMENT, DIAGNOSIS OR ANY OTHER OPINION on your conditions or treatment options. SERVICES OR PRODUCTS THAT YOU OBTAIN THROUGH THIS WEB SITE are for information purposes only and not offered as medical or psychological advice, guidance or treatment.

CONSUMER NOTICE: You should assume that From Heartache To Joy has an affiliate relationship and/or another material connection to the providers of goods and services mentioned on this page and may be compensated when you purchase from a provider. You should always perform due diligence before buying goods or services from anyone via the Internet or offline.

REFUND POLICY: Please know that in order to honor the Law Of Energy Exchange, all exchanges need to be fair energetically. We love and honor all of our valued listeners and speakers. We are happy to offer a hassle free, 30 day Money Back Guarantee to our customers to help them decide if a certain product works for them or not. However, in order to honor our speakers and their hard work we can only offer refund on one package for every customer per 90 days. Multiple refunds by same customer within 90 days will not be accepted. If speaker's offer involves personal sessions, then guarantee will be voided if the session has been availed. Additionally all refund requests should be sent within the 30 day guarantee period. We thank you in advance for respecting the energy exchange.

© Copyright 2016 | All Rights Reserved | The Transformation Show

})